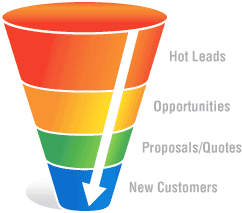 As teacher of Network Marketing in the MLM Millionaire Club, my commitment to you is to study and gather for you the best methods of doing an MLM business.
Many have felt overwhelmed by all the methods out there, and end up confused and stuck. So I hope my research saves you time, energy, and money, perhaps even shaving years off your learning curve to success!
Here is my creation of the best funnel to take one prospect through:

A: Ask: Find how your business solves their problems.

B: Business: Teach them about the business of Network Marketing. I created this page to send prospects to. It is a free, generic education about NM.  http://www.mlmmillionaireclub.com/network-marketing-the-best-business-the-world/
C: Company: Teach them about your company.
D: Duplicate: Help that prospect create a waiting list of 4 people who find 4, using Steps 1-3.
E: Enroll: THEN sign up just that prospect.
F: Farm: Help them do the same.
THAT'S what we're teaching in the MLM Millionaire Club this month.

What this does:
1) Educates them about MLM, like learning to drive BEFORE you give them the keys to the car.
2) Screens (qualifies) your prospects, so you conserve your time and energy for serious ones.
3) Provides immediate success = less attrition.
4) Duplicates easily: It's a system anyone can do because it uses tools to teach.

In the Club, we learn more about WHY this is a better way, and HOW to do it!
This is a new model. Step D is from Professor David Frost, MLM Millionaire Club member and creator of the world's first and only college accredited course in network marketing, at Bethany College,in Lindsborg, Kansas. (which is near me, actually!)
It makes a lot of sense, doesn't it? To get started strong…

Here's where you can join us AND get a first free month in the Club: MLM Millionaire Club Free Month
Any feedback on this new model above? I'd love to hear! ~ Bess