Ever feel stuck and frustrated because you have some persistent problem with your business, money, relationships, or health? Take this one-minute quiz.
After observing how she solved problems, and guided clients to solve problems, Bess found a pattern and outlined the 4 simple steps: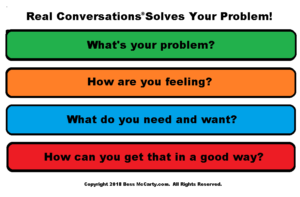 1. Identify the problem
2. Identify the feeling
3. Identify the need under the problem
4. Meet the need = problem gone.
Bess put this in a Real Conversations Chart for you, made an audio to explain it, and wrote 5 short e-lessons to explain the 4 steps.
Learn this simple self-coach process for yourself. Get these free tools in the box on the right:
Real Conversations is reported by those who use it to work quickly, directly, and powerfully.
Do someone a favor: tell a friend!
~~~~~~~~~~~~~~~~~~~~~~~~~~~~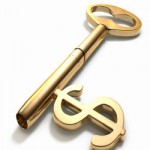 Bess created and teaches Real Conversations®, a simple process about loving ourselves enough to listen to our own needs and respond to them. It is a proven, practical 4-step system that takes us quickly and directly to the key for breakthrough!
When we unlock the secret to our next level, step, or goal, it's because we've touched into a core, primal, God-given need. We know it, because it's alive, vibrant, and real! When we respond to it, that's an act of love. It always propels us forward.
Hi Bess! Thank you! The Real Conversations Lesson #1 was awesome!! Who would have thought such a small act could turn out to be so powerful. I felt like a "good door" opened for me after I completed the exercise… I'm really looking forward to this journey!! ~ Denise Jackson, San Diego, CA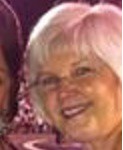 Bess helped me break through my toughest roadblock by showing me how to put two things together. I now have a plan to follow and feel really great about the rest of this week and what will happen next week. Real Conversations really cuts out all the BS. It allows me to get to the root of my problem. – Debbie Brown, Austin, TX
Here is a video demo of Bess coaching Real Conversations for business on a Google Plus Hangout.
Listen to a workshop on Real Conversations presented for Wisdom at Work Austin.
"The most important ingredient for your success is the Real Conversations you have with yourself." ~ Bess McCarty