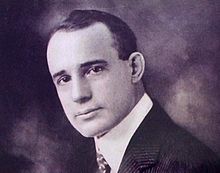 Can you keep to your goals and vision, past discouragement and procrastination? What does it take to not give up?
I'm inspired by true stories. Like those of Napoleon Hill:
Did you know that Hill did not just write Think and Grow Rich in his life, he also achieved many other great successes? But not without facing 9 devastating defeats! Here's his amazing story:
Defeat #1)  At age 19, Hill advanced rapidly in a bookkeeping company from stenographer to manager, receiving pay beyond his years. Then his employer lost his fortune, and he his position.
Defeat #2) Then he became a salesman for a large lumber manufacturer. He advanced rapidly to partnership. On top of the world again! Then almost overnight, the 1907 panic wiped out their business and left him again penniless.
Defeat #3) He redirected his efforts to the study of law, determined to claim his fortune there. For money, he wrote magazine articles and worked as an automobile salesman. He opened a school to train auto mechanics. The school prospered. A banker readily loaned him money to grow the school, then once Hill was in his debt, he calmly took it over. Again, he'll was reduced to poverty.
Defeat #4) Through family connections, he secured a high position in one of the largest coal companies in the world. It was a very comfortable and easy job. He suddenly resigned, for the first time creating his own failure, because the work was too easy! This decision was followed with 10 years of effort full of grief.
Defeat #5) He then went to Chicago to be an advertising manager for a large correspondence school. He did so well that the president of the school induced him to resign and go into the candy business with him. He became its first president. The company grew to 18 chains and did so well that Hill's partners decided they wanted to take over the business. They had him arrested on false charges. Hill beat them in court. But he resisted the temptation for revenge, although any dreams of making it in the candy business were now shattered.
Defeat #6) Soon after, he taught advertising and sales in the local college and by correspondence. It prospered from the beginning. In 1917, the military draft destroyed his school by enlisting most of his students, again leaving him penniless.
Defeat #7) Yet in 1919, one year after the war ended, Hill launched a new magazine to teach idealism. It prospered. Then his printer attempted to buy out his share of the business. When Hill learned that would mean he could not involve himself in any competing publications, he walked away from the magazine. That was 1920.
Defeat #8) In 1921, he had raised the money for a new publication. It's success lead to Hill's success as a speaker and motivator. At the same time, he developed a correspondence course to rehabilitate prisoners. It too was very successful. Until two greedy board members, one who was the prison chaplain, led to it's demise in 1923, and also the demise of Hill's magazine and other ventures.
Defeat #9) So Hill return to teaching and lecturing. He then met a crusading newspaper publisher, who offered to help and publish his work. They both worked to reform prohibition gangster activity, and this led to the murder of the publisher one week before they were to finalize the financing of Hill's book!  Hill narrowly escaped and had to hide out for a year. Destitute and afraid for his life, he fell into a depression.
One night he willed himself out of his depression and resolve to finish the book that Andrew Carnegie had proposed almost 20 years earlier. He worked night and day for almost 4 months to finish it. In 1928, he published it. It was a runaway bestseller. Then came the stock market crash of 1929 the market fell out of everything, including books. He struggled through the Great Depression. He lectured and wrote to revitalize America. In 1937, as the depression was lifting, Hill released Think and Grow Rich. It was a resounding success even before the depression ended.
Hill felt  like giving up numerous times! I wonder if his experiences and what he learned from them fueled the success of Think and Grow Rich? Much like the true story of Milarepa:
His teacher Marpa instructed Milarepa to build 4 towers. After each of the first 3 were completed, Milarepa was instructed to tear them down and take all the earth and stones back to where he had gotten them. Here is a photo of the 4th tower that still stands. Milarepa learned lessons through all this, then received enlightenment.
Hill writes:
Sometimes it appears that there is a hidden Guide whose duty is to test men through all sorts of discouraging experiences. Those who pick themselves up after defeat and keep on trying, arrive; and the world cries, "Bravo! I knew you could do it!" The hidden Guide lets no one enjoy great achievement without passing the PERSISTENCE TEST. Those who can't take it, simply do not make the grade.
Those who can "take it" are bountifully rewarded for their PERSISTENCE. They receive, as their compensation, whatever goal they are pursuing. That is not all! They receive something infinitely more important than material compensation-the knowledge that "EVERY FAILURE BRINGS WITH IT THE SEED OF AN EQUIVALENT ADVANTAGE.
Do you want to pass the Persistence Test? Then know what you want and why. Believe in your ability. Have a good, sound plan. Secure the support and cooperation of others. Focus. Practice good habits.
The bottom line for me is that we may feel entitled to the love, money, or health we have worked so hard for. Yet, isn't the greatest of riches the person we become in the process?
If you want my really good tips and training delivered to you weekly for free, order them here: http://www.mlmmillionaireclub.com/ignite-your-downline/
—