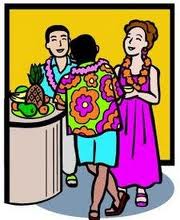 This is the time! Get out of your "Holi-Daze!" Don't let this go by!
Shoppers are looking for gift ideas. They want to buy. Encourage your whole team to run a promotion holiday special on some of your products or services, or add a Holiday bonus to some. Help your customers to think of your line for their gift list.

Some of these same shoppers are looking for a way to make some extra money to buy the gifts, or to pay back their credit card afterward. They might also like getting the gifts at a discount as a distributor. "Hmmm… this could lead to an ongoing income!", they say!
And New Year's is the time folks are ready for a new start!

This is the time of the most parties and socializing, and seeing family and others we might not see that often: time to network, and share Network Marketing with the right ones.

I recommend writing down all the problems your product, service, and business solves. So you'll recognize them as they come up in conversation.
It might be health, weight loss, aging, stress, bills, foreclosure, a tough boss, unemployment, not enough time with family, not agreeing with the ethics of their company, hating the alarm clock, 2-3 jobs, etc.
Then listen to people. Listen for these problems that you can help them with.

Remember the FORD method (Larry Kendall: Ninja Selling). Ask them about their Family, Occupation, Recreation, and Dreams. Get them comfortable talking with you by being sincerely interested.
Ask, "How is that for you?" ~ "Does that affect your family?" ~ "Is that getting better?"
Then empathize: "That must be tough!" ~ "I know I'd miss my kids if my company had me traveling!" ~ "How will this impact you if it doesn't change?"
This shows you care, and it brings out more for you to respond to. It also deepens their own awareness of their need for a solution.
When they've shared all they want, and you listened and empathized, it's the time to offer, like this: "If I could show you a way to (solve this problem), would you like to hear a little bit more?"
They usually say yes. This is the time to set up a coffee to watch a company video together, 3-way call w/ your sponsor, or use some other third-party tool (which gives validity).
It takes an average of 4-6 exposures before a person is ready to do the business. So schedule the next one before you're done.

To help you with this, I made a video class on "How to Prospect During the Holiday Season"!
Learn on this video: How to Get More Distributors:
1) Where to Find Them
2) Opening Lines
3) Inviting Steps
4) What to Do After That
Just request it in the green box below. You'll also receive a free subscription to "Money-Making Tips for Network Marketers"!
Make this your best Holiday Season yet for your business!