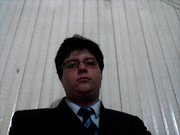 I started MLM three years ago when I was 19 years old.
I used to work as a cashier in a furniture store and I wanted to be outside the box and realize all my dreams, but I didn't know how! I didn't have enough money to open a traditional business. I didn't want to go to college, because I saw friends that did who weren't making their dreams come true. I thought, "Nah, I can't do this to me! There's gotta be another way!"
One day my brother-in-law went gave me a ride home. I explained my situation to him. We've been very close since I was a little kid. He said to me, "Come to my place tonight. We're getting RICH."

He showed me everything about MLM. I got really surprised with what my results could be, and I decided "THIS IS WHAT I NEED" but I had no money to buy the products. I waited til payday, didn't pay my bills and started on network marketing, made some cash selling the products, paid my bills and ever since it's being wonderful!
As a little boy, I was very shy, used to complain all the time, had no patience at all, and so many other things. With many training sessions, books and audios, I learned how to become a better person, listen truly to my friends, be a success in all areas, and lead people because they really want to be around me! Two years later I quit my job. Now I only work with MLM and I'm really happy with my results!

~ Ivan Donadel ~ http://www.facebook.com/ivan.donadel.3